For years, I would race out of the house to the airport, wearing damp jeans – because I had left it so late to pack I had to wear clothes I had grabbed out of the washing machine, still wet!!! After a decade of travelling, I've finally figured out a few things that make the process more efficient. Hope these help you…
PREPARING
Long-term:
I always travel with two cards from two different ATM networks, e.g. a Visa AND a Mastercard, or a Link AND a Cirrus. Either I have 2 cards from 2 different ATM networks, or I have a card from one ATM network, and my travel buddy has a card from another ATM network. On a trip with a pal years ago, my friend's card didn't work, and if we hadn't had cards from two different ATM networks we would have had a serious problemo.
6 weeks before departure:
Last year when planning a long-haul trip, I suddenly realized I might have to get vaccines. 3 weeks before my departure, I went to the doctor, to find the lead-in time for all my jabs was … 5 weeks. I was able to get most of them, but had to travel without one of the recommended jabs. I do NOT recommend this. In future, I will give myself at least a 6-week lead-in time for vaccination. Please learn from my mistake, and check your vaccination requirements at least 6 weeks before departure!!
7 working days before departure:
We all have a secret fear. Mine is I arriving in a country and my ATM card not working, or it taking me a few days to find an ATM where my card works. Therefore, particularly if I'm going far away, I think it's a good idea to bring a bit of local currency with me. My local bank doesn't carry currency from any developing country, so I have to order currency at least 5 working days before I depart.
It's a good idea to confirm the dress code for the gig a week before departure in case I need to get a particular garment.
3 days before departure:
The obvious: laundry!
…and I try to use up as much of my perishable food as possible. This few days is usually marked by unusual food combinations… Brussels sprouts and sweetcorn, anyone?!
1 working day before departure:
It's old-skool, but some airlines require a printout of the online check-in. So the last day before travel, I check that I have ink in my printer, and if not, I buy some. If I'm really organized, I go to McCambridge's in Shop St., and buy Barry's Tea and some gorgeous hard Irish cheese as a gift for my hosts. (Ask McCambridge's to vacuum-pack the cheese and it travels beautifully). If I'm under pressure for time, I buy Barry's Tea or a hard Irish cheese at the airport.
I was in Asia in 2017; I didn't tell the bank about my trip, and upon me using my card in an ATM so far away, the bank froze my card as an anti-fraud measure. It was SUPREMELY stressful being in a foreign country with no access to cash. So I recommend ringing your bank and telling them you'll be going abroad, particularly if it's to a different continent.
If I'm anxious about theft, I make a photocopy of my passport, medical insurance docs, credit cards and put that page in a different location to my wallet.
Buy any items I'm short of, e.g. protein bars ( …any excuse!  ) .
PACKING
A science in itself, here are my thoughts on How, and What, to Pack for a Trip , and The Perfect Travel Outfit .
LEAVING THE HOUSE
Before leaving, I aspire to …
Empty my kitchen bins
Put all perishable food from my fridge into the freezer
Turn of all sockets EXCEPT for freezer
Set up an autoresponder on my emails
Put a msg on my voicemail
This prevents me arriving home to an exceedingly bad smell. !
FOR LIAISING AT ARRIVALS / MAXIMISING PRODUCTIVITY
I've made a habit of putting my plug converter and device rechargers in my handbag, not main luggage, so I can recharge my devices as necessary, even if my luggage is checked. (This is especially necessary now that some airlines have a policy of checking carry-on luggage at the gate.) This was a particularly good idea that one time I was landing in Beirut and had no idea who was picking me up…!
YOUR AIRPORT TRANSFER
There are 3 bus companies that service the route between Galway city and Dublin airport (in no particular order: Bus Éireann, Citylink, Gobus) When I'm bussing to/from Galway to Dublin airport for a flight, I deliberately buy only a single ticket. That means that when I fly back and arrive in Dublin airport, exhausted and needing to get home ASAP, I can hop on the next bus departing, rather than waiting for a bus run by the company I made the outbound journey on. It's totally worth the extra €10 to get home to your bed when jetlagged and exhausted.
GETTING THROUGH SECURITY FAST
I consciously wear light, preferably slip-on, shoes to airport so I get through security asap. I once wore punk boots to the airport… what a TERRIBLE idea. Never again.
I deliberately don't wear hair accessories going through airports. As they're frequently made of metal, I have to take them off and put them in a tray going through security, and it's one more thing to worry about plus I left a particularly nice flower in a security tray in Philly last year. Philly, you deflowered me. !
AVOIDING DVT
On most flights, I…
stretch my legs while sitting in my seat
get up and walk to the toilet / around the cabin at least once
Just once in my life I neglected to do this, and my legs swelled up – SO SCARY! If your legs swell up, it's probably not serious, this is what I did and the swelling went down in a few hours.
Super sports therapist, Adrian Cradock, gave me a great tip to avoid / help back pain: bring a tennis ball, place it between your back and the seat, and rub the ball into your back as you travel. Also, to avoid DVT you can place the tennis ball under your thighs when sitting. To save space, I use my hand-therapy ball, the Handmaster, instead of a tennis ball.
TO FACILITATE SLEEPING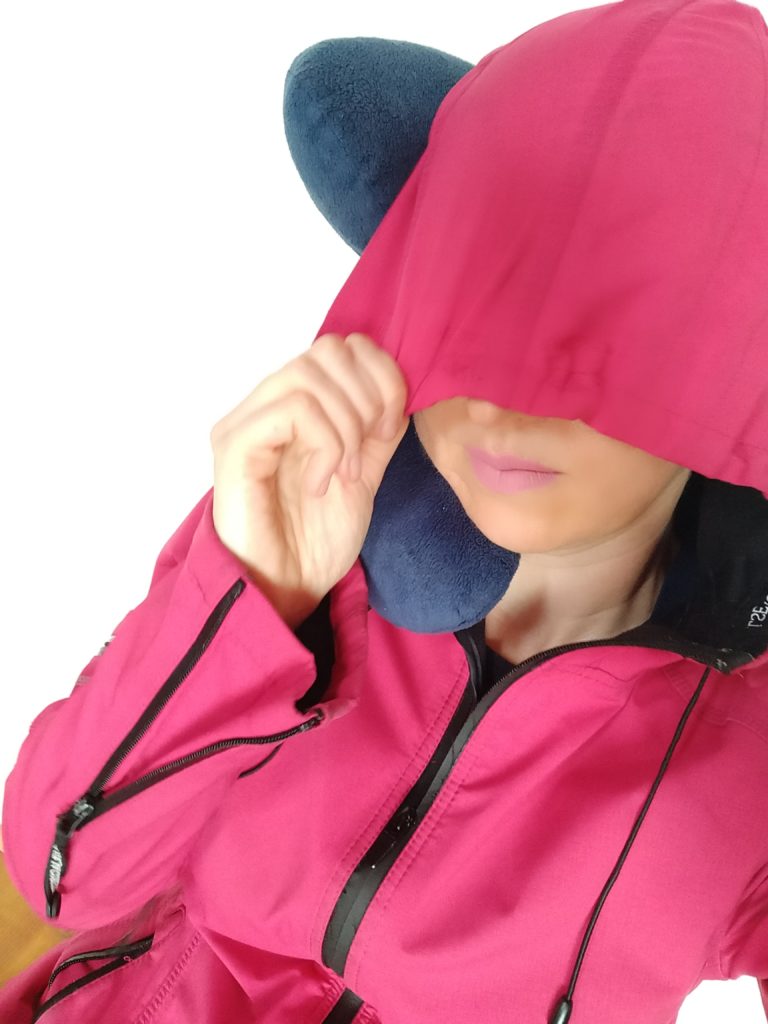 Buy a J-pillow… A travel pillow recommended by Alexander Technique teacher (and excellent musician) Teresa Turner, it's one of the best things I ever bought. Latch it to your handbag and never go on a long journey without it.
I try to sleep as much as possible on flights. I generally sleep better with a bit of shade / darkness on my eyes. For years I travelled with a funkily-designed eyeshade, feeling very hip, until it was time to actually wear it, when the whole illusion of being 'cool' crumbled… the eyeshade would end up on my nose, in my mouth, on my forehead, EVERYWHERE but actually on my eyes. These days I bring a light raincoat with a hood, and pull the hood over my face to block out light when trying to sleep.
When in the air, I try to drink more than my normal amount of water. I find that unless I do this, I wake up from dehydration. Yeuch.
WHILE ABROAD
I try to eat some natural yoghurt when I'm abroad; it lines my gut with local bacteria that help me digest local food.
So that's it… Úna's Últimate travelling system, conveniently condensed into a one-page checklist, which you can download here.
Hopefully these tips will help you to be healthy, relaxed, comfortable, time-efficient and rested during your travels… and at the very least, ensure that you don't return to a smelly house! 🙂 In Irish, we say 'Go n-éirí an bóthar leat… ' May the road rise to meet you. GOOD LUCK on your journey. Let me know if you find any of this helpful, and if you have any tips for me!!
Go n-éirí an bóthar leat,
Úna